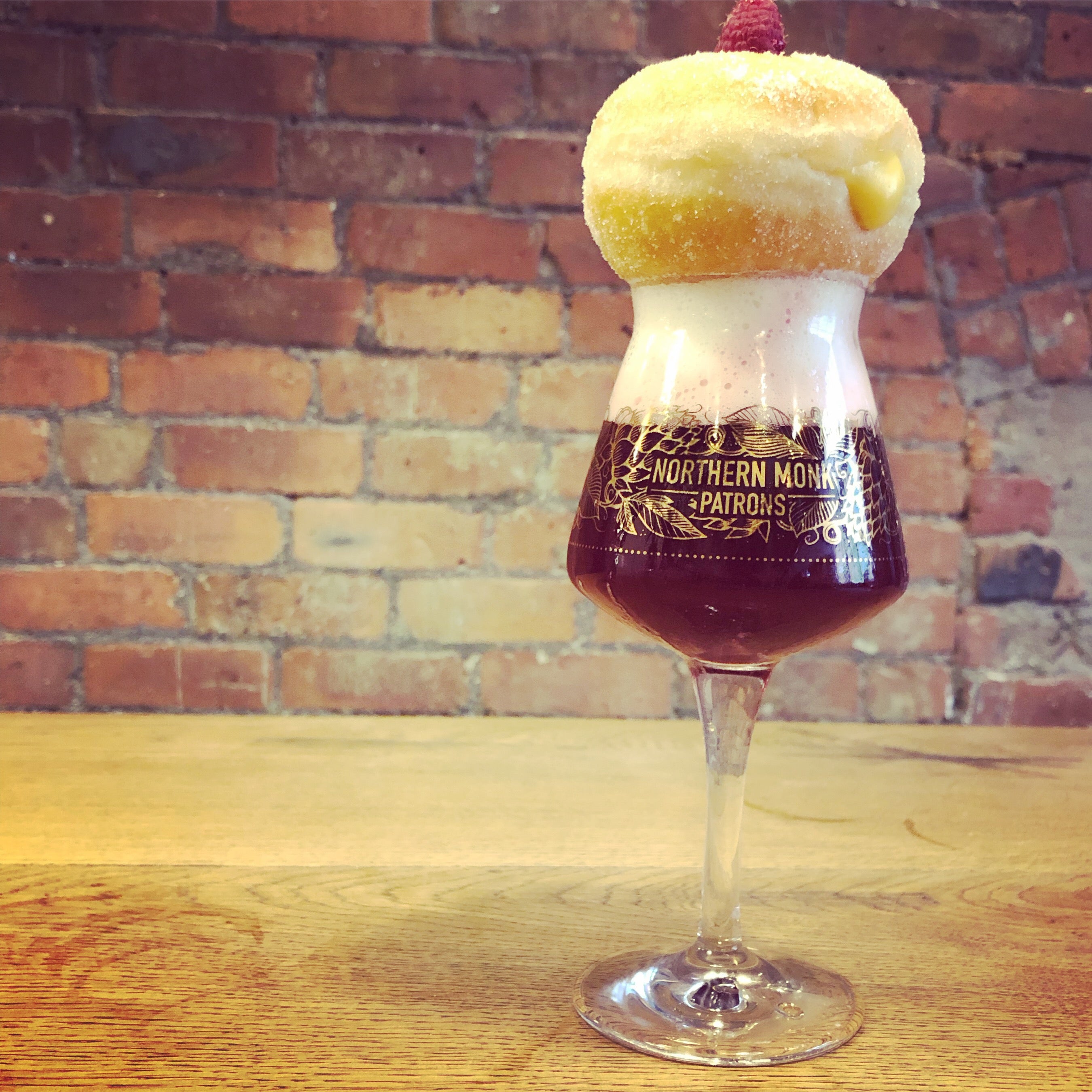 Beer for Dessert
May 28, 2019
by Charlotte Knowlson
Pairing beer with food isn't a new phenomenon; for centuries, beer was the beverage consumed with most meals in the UK. We'd happily drink beer with breakfast, lunch and tea (if our doctors didn't strongly advise against it). But putting dessert in and on top of beer (and vice versa) is, perhaps, a relatively new concept. On Sunday 26th May, Northern Monk Refectory Manchester teamed up with Siop Shop, Omnipollo and Dugges to bring a new level of creativity to craft beer. In case any, or indeed all, of these players are new to you, let us illuminate you.
The Northern Monk Refectory MCR is a part of the Northern Monk Brew Co family. It's a taproom with a heavy industrial vibe set in a beautiful listed building on Tariff Street. It has 18 keg lines, 4 cask, and cracking food (which changes regularly, thanks to incredible local food vendors taking over the kitchen). Just a few streets over, on Tib Street, you'll find a friendly, quirky and characterful little cafe called Siop Shop which makes - I'm not exaggerating - the world's best doughnuts.Travel just a little further afield, over the North Sea to Scandinavia, and you'll find both Dugges Bryggeri and Omnipollo. These are both incredible breweries who seem to specialise is mind-blowing dessert stouts and inventive flavour combinations. But what do you get if you mix them all together? This combination brought us the 'Bank Holiday Pastry Stout Showcase'. Beer + soft serve + doughnuts. And it was glorious. 
We believe there should be a certain level of frivolity and freedom to craft beer. It should be enjoyed, played with, and should push boundaries of creativity. If that means dunkin' a doughnut in your drink, or ploppin' a big scoop of ice-cream in your imperial stout, then we are most definitely on board. It was also one of those events that brings beer lovers together, and gets people talking. Looking around at the zany and mouth-watering creations, we couldn't help but wander over to strangers to ask: WHAT ARE YOU DRINKING AND HOW DO I GET ONE?
We wanted to share some of our own indescribably-delicious creations with you, such as Omnipollo's Pleroma Raspberry Creme Brûlée sour topped with Dugges' Mango Mango Mango soft serve, and a delicious mango doughnut from Siop Shop (pictured above). The creamy, subtly tart mango doughnut made the tropical fruit of the soft serve shine, and showcased the sweet, tart raspberry jam flavours.  Or how about Dugges' Banana Toffee Chocolate stout with a creamy cherry custard doughnut for dunking (pictured below)? Banana and custard are a match made in heaven. Add a boozy kick and sweet toffee chocolate flavours and you've created the perfect dessert pairing.
But we don't want the creativity to stop there. We want to continue messing around with dessert beer, so here are some of our favourite ideas to try at home, inspired by the Bank Holiday Pastry Stout Showcase...
Brew York's Rhubarbra Streisand (possibly the best beer name ever) float with a scoop of vanilla ice cream and rhubarb compote.
Dugges Cocoa Cacao imperial stout with a salted caramel doughnut (which absolutely must be from Siop Shop) and chocolate pretzels 
Affogato made with vanilla ice cream, a shot of espresso and a drizzle of Hawkshead's Tiramisu imperial stout
Caramelised peaches with vanilla and cinnamon whipped cream, and a glass of Dry & Bitter x J Wakefield's Arcadian Orchard peach and nectarine sour
Chocolate-chip pancakes with toasted coconut and almonds and a healthy slug of Omnipollo's Agamemnon Monster Shake imperial stout brewed with maple, coconut, cocoa nibs, smoked bacon, coffee, almonds and vanilla.
Pop into The Epicurean to pick up any of these beers (and more from Omnipollo and Dugges!) and create the ultimate dessert. Share your creations with us on social media, and don't forget to look out for future events at Northern Monk Refectory Manchester and Siop Shop!