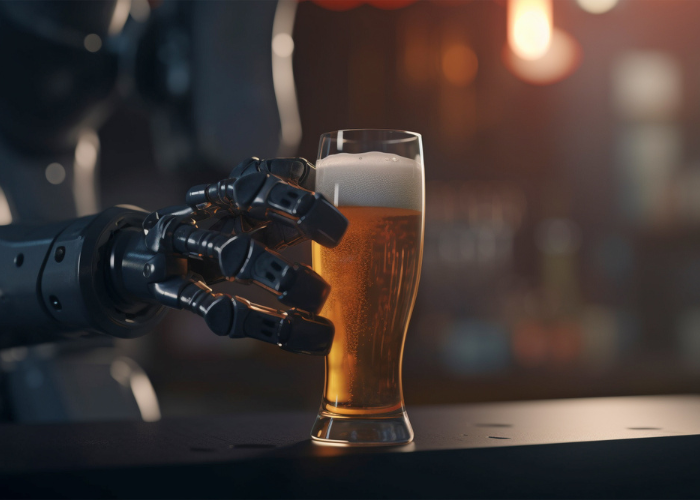 The future of beer
July 28, 2023
The beer industry had rapidly evolved since the 20th century, and there are exciting developments happening which will shape its future. Consumer demand is constantly increasing due to unique, sustainable and diverse beer offerings. This is spreading from the older to the new generation of adults who are seeking new beers to try every time they head to a pub or the sun comes out.
Technology has had an influence on the current beer industry; the new flavours being released are created using sophisticated technology which the industry was not privy to in the 20th century. 
In today's article, we will be diving into the future of beer; the new techniques being used, environmental responsibility, current culture and new trends, plus more. Carry on reading below to learn more. 
Brewing techniques and ingredient innovations
To begin with, there are more and more brewing techniques being trialled and successfully attempted each day. There are 4 techniques currently used that are catching everyone's attention; dry hopping is the first method. This involves adding the hops directly to the fermenter; the idea behind this is it enhances the hop aroma and flavour without causing any bitterness. Due to the popularity of hoppy beer such as IPA, this technique has become increasingly popular - therefore demanding for brewing companies to implement it.
Another brewing technique that's used which has been popular for wine and spirits is barrel ageing. It's a simple but effective technique which heightens the beer flavour enormously. Adding flavours such as vanilla, oak, or fruity notes has a significant effect on the beer, and it's what makes it stand out from the rest. We don't see this technique disappearing anytime soon. 
The third technique on our list is souring techniques. More than ever brewers are experimenting with multiple methods to produce intentionally sour beers. This includes kettle souring, spontaneous fermentation, or using specific strains of bacteria or wild yeast. This may appear ludicrous , but it actually leads to complex sour beer flavours, which are becoming increasingly popular among beer drinkers.
The final brewing technique used is the creation of new yeast strains. It's well known that yeast plays an important role in the production of beer, and new strains are continuously being developed to improve beer styles and flavours. We see this technique continuing in the years to come.
Furthermore, ingredient innovations have and will continue to shape the future of beer. Brewers are constantly exploring alternative grains beyond the traditional ingredients, as they want to create distinctive flavour beers. There is a growing emphasis on using locally sourced and sustainable ingredients, as it supports local agriculture; but brewers are noticing the benefits of this in another way. It adds regional character to their beer which helps make them stand out from the rest and encourages new consumers to try different areas' flavoured beer. 
Sustainable brewing and environmental responsibility
The next important topic which is becoming increasingly apparent in shaping the future of beer is sustainability and environmental responsibility. Brewing beer requires a significant amount of resources to make; ingredients such as water, energy and raw materials aren't cheap and they won't last forever. This is why it's important for brewers to start adopting sustainable practices. It will help protect natural ecosystems, mitigate climate change and preserve biodiversity. 
Also, brewing generates a lot of waste materials such as spent grain, yeast, and packaging materials. To secure the future of their breweries, brewers are starting to think sustainably and create innovative ways to repurpose or recycle these byproducts. Spent grain can be used as animal feed or compost, and packaging materials can be recycled or made from eco-friendly materials. Overall, reducing the amount of waste and improving your recycling can promote a healthier economy.
Furthermore, it's crucial for current and new brewers to consider community engagement and improve their current responsibilities to help shape a better future for beer. Due to their significant role in society, they can have the ability to become community leaders by adopting sustainable prices. Many breweries across the globe are becoming more sustainable and environmentally friendly. Breweries such as New Belgium Brewing Company, Toast Ale, and Hopworks Urban Brewery consistently think about how they can improve their local community, and this is starting to take shape. Read more here about these sustainable breweries. 
Beer culture and consumer trends
The current beer culture has already played a significant role in helping to shape the future. The increase in demand for craft beer has already opened up a new market space for consumers to buy from. The emphasis on small-scale breweries is rising in popularity due to the increased focus on flavours and customer awareness. In addition, the door opened by craft beer has allowed a wave of new flavours to emerge. Consumers are now becoming more open and adventurous to sampling new flavours and this trend is pushing breweries to become more innovative with their brewing techniques. 
Moreover, the increase in health and wellness has prompted consumers to start thinking about what beer they're consuming so it aligns with their lifestyles. This has led to a rise in low-alcohol, alcohol-free, and low-calorie beers. There's no sign of this changing either, as more brewers are welcoming the idea of developing lighter healthier beer options which don't sacrifice flavour. 
Ordering online has become a quick and convenient way of accessing beers, and without doubt, this will continue to shape the future as the connection between brewer and consumer grows stronger.
One of the ways the connection is growing stronger is through the addition of beer subscriptions or a beer club. This enables a customer to receive their favourite or new beers on a regular basis and gives them the opportunity to learn about any exclusive releases coming up.
Technology and digitalisation in the beer industry
Technology and digitalisation have already begun shaping the future of beer. The growth of online platforms provides users with the opportunity to order online and educate themselves on different beer styles, brewing processes and upcoming releases. This has become the 'standard' way for consumers to purchase the products they want and it's efficient and reliable for them.

At The Epicurean, we can provide all of our customers with a unique website experience that allows them to easily browse any beer style and collection they want. You can discover new regions of beers too, and find out what all the fuss is about with the latest American IPA or our most popular German beer. On the other hand, if you would like to sample and treasure a trove of flavoured beer - we have you covered too. We're proud to offer craft beer subscriptions, which allow you to pick from a variety of mixed craft beers. Eager to learn more? Get in touch today to learn more about our beer club. 
We hope you enjoyed reading our latest article discussing the future of beer. If you would like to find out more about the topics we've discussed - be sure to get in touch with our team today. Alternatively, if you would like to sample the future of beer, why not check out our current craft beer club? 

Interested? Get in touch with our team today to learn more!