Top craft breweries in the UK
September 15, 2023
The craft scene in the UK has skyrocketed in recent years. More and more people are enjoying craft beer and joining the community too. We're proud to boast we've collaborated and worked with some of the best craft breweries in the UK. So, it's our pleasure to dive into the top craft breweries in the UK.
Cloudwater
Arguably one of the best and most popular craft breweries on our list. Cloudwater is a Manchester-based brewery which focuses on producing high-quality and innovative craft beers. Since their humble beginning, they've risen to a high status around the UK, particularly in Manchester.
They have a wide variety of beers to choose from such as pale ale, lager, stout, plus many more. Our current favourite beers from them, which we're proud to provide to you, are their Happy Easy Pale Ale and So Cal Bright Pale. Both beers are light and we can't boast enough of their taste and flavour depth. The 'So Cal Bright Pale' is also gluten-free too! If you would like to discover more beers from this collection, then check out our other Cloudwater beers.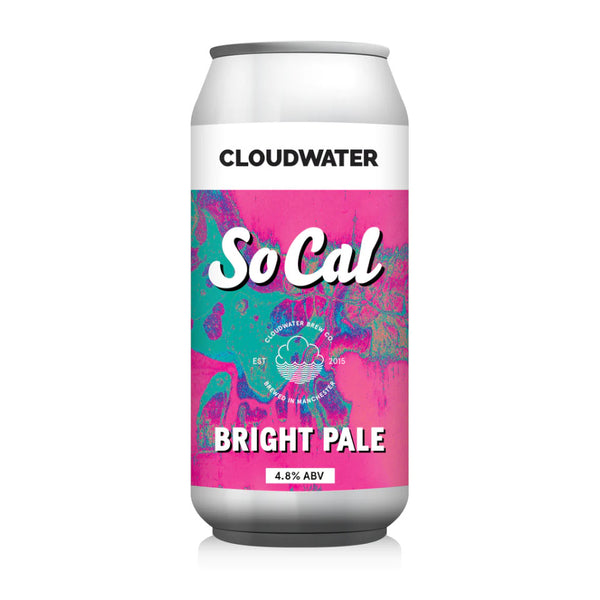 Blackjack 
The next craft brewery that makes our list is Blackjack Brewing. Blackjack is another brewery born and bred in Manchester which has skyrocketed to new heights since the rise in craft beer. The brewery has released a range of styles, including traditional ales, modern IPAs, and more. They often experiment with different ingredients and brewing techniques to create limited-edition and seasonal releases.
Similar to the previous brewery, we're fortunate to have a delightful range of beers from Blackjack. The Dancing Saloon, hazy pale ale; and the Pilsner Pivo lager, are our current favourites from Blackjack - and we can't recommend them enough! So, if you fancy trying some of Manchester's finest beers - why not sample these beers today?
Sureshot 
Founded in 2020, Sureshot Brew has stormed to the front of the queue as one of the most popular breweries in the UK. With a huge focus on hoppy IPAs, clean lagers, and flavourful, easy-drinking pale ales; they aim to provide new and existing customers what they love most - beer! It is for this reason that we have partnered with them. 
We have a wide range of Sureshot beers for you, your friends and family to enjoy. Our range of consists of: Tim the human fish, new england IPA, Dilson, DIPA, Purest Green, New England IPA, plus much more - you're truly spoilt for choice.
Pomona Island 
Situated in the heart of Salford, and arguably one of the most popular breweries in Manchester, Pomona Island is another brewery from the North West which is making waves in the craft brewing industry. The brewery is recognized for producing a diverse range of beer styles, including pale ales, IPAs, stouts, and more. They are often noted for their artistic and eye-catching can designs, which complement their imaginative approach to brewing. 
At The Epicurean, we love getting creative; which is why we partnered up with Pomona Island. Their beers are of the highest quality, and we're proud to offer them to all of our customers. Our range of Pomona Island beers consists of Factotum, Pale Ale; Oh Billy, Pale Ale, The Boy With The Filthy Laugh IPA, and many more. 
First Chop Brewing
Our next favourite craft brewery pouring goodness across the entire of Manchester is First Chop Brewing Arm. The name "First Chop" is derived from an old Salford term that means a good meal or a satisfying drink. First Chop is known for brewing a variety of beer styles, including pale ales, IPAs, stouts, and they're considered specialists in making gluten free beer. They often experiment with different ingredients and brewing techniques to create a diverse and intriguing range of flavours.
Over the years, First Chop Brewing Arm has received recognition and awards for its beers at various beer competitions and festivals. Overall, they're a brilliant brewing company and we're glad to be able to provide their beers to our customers. At The Epicurean, we have a variety of First Chop beers for you to choose from. From a Juicy IPA to a West Coast IPA - you're spoilt for choice!
Arbor Brewing 
Known for creating a wide range of innovative and flavourful craft beers, Arbor has produced some of the most popular craft beers in the UK. With a range consisting of pale ales, IPAs, stouts, and more; rest assured Arbor has created a fine beer delicacy. 
Fortunately for you, here at The Epicurean, we have a selection of Arbor's finest beers; their gluten-free lager, and their gluten-free pale ale. Both of which are filled to the brim with flavour and there's more where that came from. If you like the sound of the Arbor beers, then why don't you check out our other best of British beer? 
Big Drop Brewing Co
Founded in 2016, Big Drop has stunned the world of craft beer with an alternative approach to their beers. Their primary focus is to create non-alcoholic and low-alcohol beers that offer the taste and experience of craft beer without the high alcohol content. Despite the absence of or lower alcohol content, Big Drop places a strong emphasis on producing flavorful and high-quality beers. They use traditional brewing methods, quality ingredients, and innovative techniques to achieve their desired flavour profiles.

At The Epicurean, we love this different approach to craft beer, and we want everyone to try it. Luckily for you, we can help you out here. Currently, we can provide you with their Paradiso IPA, Reef Point craft lager, Poolside DDH IPA, and Stout. Each of these beers offers a unique experience, so why don't you try something different today?
Brass Castle Brewery
Located in North Yorkshire, Brass Castle Brewery has continuously gained recognition for its commitment to producing high-quality, innovative, and flavourful craft beers. The brewery produces a diverse range of beer styles, including traditional ales, modern IPAs, stouts, porters, sour ales, and more. A high proportion of Brass Castles beers are gluten free; so if you fit into this category - they've got you covered too!
If you're looking to try something new, then we can't recommend Brass Castle enough. In fact, we can do one better. Amongst our collection, we have two of Brass Castle's finest beers for you to enjoy with your friends and family. The Pilsner Thrills, and the Disruptor, will blow you away. So what are you waiting for? Order today!
We hope you've enjoyed reading our latest article about the top craft breweries in the UK. If you're interested in trying something unique, why not check out our beer club? We guarantee you'll be delighted with what we can offer you. Get in touch today to find out more!