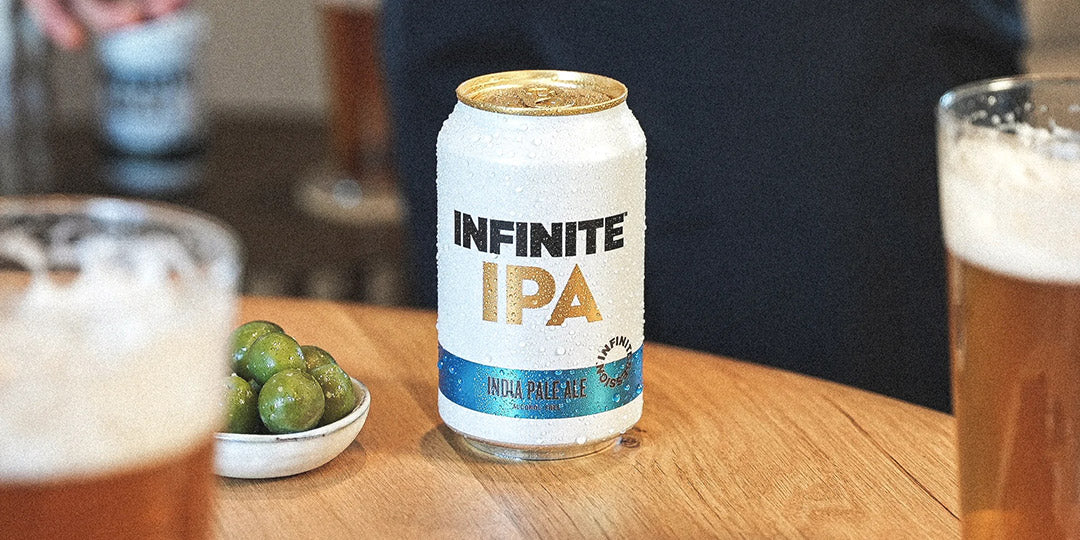 Why No and Low Alcohol Beers are No Joke - by Matt Curtis (Award Winning Beer Writer)
January 20, 2023
Author: Matt Curtis
Why No and Low Alcohol Beers are No Joke
I spent the best part of my early beer writing career disparaging no and low alcohol beers. Often this was good humoured and with fair reason, because a few years ago a lot of attempts at alcohol free beer – from Kaliber to Heineken Blue – were pretty terrible.
As interest in the category picked up, and newer, smaller no and low alcohol brands began to appear, my attempts at being good humoured descended into cynicism. Taking pot shots at some of these new brands felt easy, because these beers aren't identical to the pints of cask bitter or glasses of strong and hoppy IPA I was used to drinking. After a while (and after giving myself a good talking to) I realised that my negative feelings towards these beers were, for the most part, completely misplaced. 
The first thing I figured out was that, in a lot of cases, I was not the target market for these beers – at this point there simply wasn't a place in my lifestyle where they neatly slotted in. As I learned more about the category though, that space gradually began to open.
There are many reasons to choose no or low alcohol beers. The first, and most obvious is that people don't want to, or can't drink alcohol, but still want the experience of drinking a beer. There is value not only in how they taste, but in that feeling of comfort that starts when a bottle cap hisses and ends when you put down your empty glass. There are many people who seek this experience, but for whatever reasons are personal to them, cannot include alcohol as part of the equation. Alcohol free beer fills this gap perfectly.
Then there are more everyday cases: people who are moderating their intake for whatever reason, or people who might want to visit a pub, but are driving and so, again, alcohol is out of the equation. For myself, the realisation that there might be room in my life for alcohol free beer came when I realised that stronger alcoholic drinks don't mix with my other weekend hobby: running. There's nothing quite like getting muddy out on a long trail and opening a beer afterwards, (you'll just have to take my word for this if running's not your thing) but I found that the more intense the run (and the stronger the beer) the higher the likelihood I'd fall asleep and lose part of my day. As part of trying to discover the appeal of no and low alcohol beer, it was experimenting with what options were available to me post run that got past the initial stigma I had previously created for these beers.
Around this time, as my cynicism began to ebb away at last, I also realised that regular beers and non-alcoholic beers are not the same thing, and that to truly respect them, they should be treated differently. If you look at the range of available non-alcoholic beers and spend your life searching for one that tastes exactly like an alcoholic beer you really enjoy, then you will be perennially disappointed. It's only when you start seeing them as their own, uniquely separate category that you can begin to separate the wheat from the chaff, so to speak.
The first non alcoholic beers to truly demonstrate to me the quality available within the category were of German manufacture. German drinkers have known for a long time not only that low and no alcohol beers can be of high quality, but that they can comfortably fit into your lifestyle, whether you're moderating or abstaining from alcohol completely. Put simply, the stigma a lot of Brits have about these beverages doesn't exist to the same scale within German (and, indeed, much of continental European) drinking culture.
As a result, some of the non-alcoholic beers from the likes of Erdinger and Rothaus were among the first to impress me. While not tasting like exact replicas of their alcoholic brethren, they manage to tick many of the same boxes, being bready, crispy and most importantly: tasty. It's not unsurprising that one of the most popular new brands in the UK, Lucky Saint (a post-run fave of mine), is also a low-alcohol lager produced under licence in Germany.
If IPAs and pale ales are more your thing, then you'll be pleased to know lagers and wheat beers aren't the only styles easily available to the no/low curious drinker. The past few years have seen plenty of newcomers to the scene such as Infinite Session and Big Drop, which produces everything from no-alcohol DDH IPAs to luscious Milk Stouts (plus I recently heard they're working on making all of their beers suitable for vegans.)
The future of the category looks to be an exciting one too, as there are plenty of developments in the technology that makes the production of these beers possible – from special malt and hop extracts to fancy reverse osmosis dealcoholisers. This means that, in time, more small breweries will be able to produce their own takes on them. The other exciting development within the no and low alcohol beer field is that we'll gradually see more offerings on draught, as well as in can and bottle. 
I feel this latter part is particularly important, especially if you're still ripe with the kind of cynicism that formerly plagued my own view on these beers. While I maintain that events like Dry January and Go Sober for October are important for the personal wellbeing of the individuals who partake in them, and the charities they often raise for, they can have a negative knock on effect for hospitality businesses such as pubs (and venerable bottle shops.)
Low and no alcohol beers are particularly useful in reminding us that pubs aren't merely places where we go to purchase and consume alcohol. As selections improve, so too will barriers be removed for people who might not go to the pub because they're partaking in one of these month-long periods of abstinence, or for those who might not drink regularly, or at all. It's a huge positive that the world of no and low alcohol beer is evolving to meet the needs of the drinker, just like regular-strength beer has done over the past couple of decades, and I'm excited to see the category continue to expand, and become even more accessible.
Here's three of my favourite no and low alcohol beers to try:
Wiper and True Tomorrow Low Alcohol Lager (0.5% ABV)
While the Germans mastered the art of producing high quality, low alcohol lagers several years ago, this recent effort from Bristol's Wiper & True is easily as good as any of those being imported from the continent. The beer is brewed to the full strength of a classic Munich-style Helles, before undergoing the process of dealcoholisation. This preserves the bready character of the malts, the herbal snap of noble hops, and the delectably dry finish that makes a good Helles so drinkable. A statement, if there was one, of how exciting the future of British brewed no and low alcohol beer is going to be.
Northern Monk Holy Faith (0.5% ABV)
If hazy pales are more your speed than lagers then Holy Faith – a low alcohol riff on the Leeds' brewery's flagship pale ale – should be right up your street. Something that puts a lot of people who are used to regular strength beer off low alcohol alternatives is that the mouthfeel is thin and meek, meaning you don't get that same sense of satisfaction from each sip. Holy Faith brings a tropical fruit basket of flavour, while also maintaining that rich, thick body that has made the hazy pale ale style so popular in recent years. 
Stiegl Grapefruit Radler (2% ABV)
While not strictly a no or low alcohol beer, radlers (basically a shandy but blended with fruit juice as opposed to lemonade) such as my personal favourite here from Austria's Stiegl Brewery, are the perfect gateway to lower alcohol beer. What I love about a radler is the balance between sweet and refreshing; a sharp fruity kick from grapefruit juice, but with the dry, snappy finish of a wheat beer. If you're not convinced that lower alcohol beers are for you, there are plenty of super low alternatives such as this, or if you've not got a sweet tooth, you really can't go wrong with a good old Table Beer, such as this 2.5%-er from Fell Brewery. 
—Matthew Curtis
See our full range of no and low alcohol beers here.